Itís been a long time since Iíve flexed my writing muscles around here, so I thought that Iíd dust it off and give it a try once more.
The subject I want to discuss today are lower leg injuries. For the first time that I can remember in a long time, nearly ALL of the top performers from two years ago had last season cut short by some form of lower leg injury. Of course weíve all heard of the dreaded
ACL
, but when it comes to lower leg injuries, itís really a case of ďyouíve seen one, youíve seen em allĒ... In other words, theyíre all nasty and they all impede your ability to run, cut, and perform at a high level, not to mention the ability to focus on physical tasks given the natural human instinct of self preservation which prevents, or at least impedes our ability to hurt ourselves. When looking at the history of lower leg injuries in sport, football in particular, it isnít hard to see that it puts a rather steep level of decline on a playerís longevity and ability to perform in the league; and that isnít just for running backs either.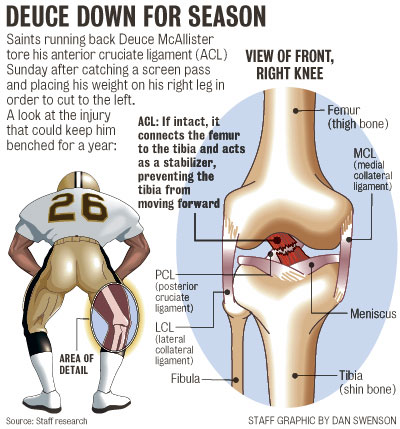 Carson Palmer, Terrel Davis, Cadillac Williams, Willis McGahee, Willie Parker, Garrison Hearst, Lamont Jordan, Cadillac Williams, Tim Hightower, Ryan Torain, Jamal Anderson, Jerious Norwood, Kevin Faulk, and the , at one time, invincible looking Ladanien Tomlinson are all somewhat recent examples of players whoíve suffered from the dreaded ACL and/or other lower leg injuries. All of which were either starters, or touted starters who had their careers and reps cut short by these devastating injuries. All of which were productive and never really returned to their prominent ways on any kind of a consistent bases, two years after their injuries.
Where this information comes to bear is that we are nearly in the new NFL season and with it, the new Fantasy Football season as well. As I mentioned earlier, this season, we have an incredible amount of top flight players that are coming back from these kinds of injuries. That previous list could very much be replaced by these names this season.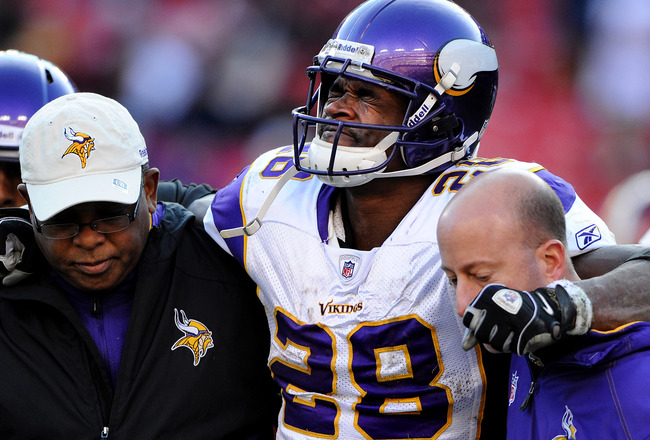 Matt Schaub, Jamaal Charles, Matt Forte, Mark Ingram, Mike Leshoure, Rashard Mendenhall, Knowhon Moreno, Adrian Peterson, Beanie Wells, Ryan Williams, Kenny Britt, Hakeem Nicks, Jake Ballard, Brent Celek, Rob Gronkowski, Fred Jackson and Tony Moeaki. Given the poor history of recovery given these kinds of injuries, itís a safe bet to assume that somewhere between 75% to 80% of these players will fall seriously short of their previous performances, and itís another safe assumption that nearly 60% of these players probably wonít even be in the league in five years time.
Keeping this in mind, it might be a good strategy to place a firm third round ceiling on most of these players, unless of course you don't mind having to pick up talent from the free agency pool and taking your chances that someone will have been overlooked early. But this isn't a safe bet, as most of these players will likely be limited early on in the season with the intention of limiting their chances of getting a serious re-injury, but here in lies the problem; Chances are that once your player is either healthy again, and/or falls to another injury, the pickings by week 4 should nearly all NFL backups and scrubs.
for the first time in a long time, most of the top picks have a serious "Buyer-Be-Ware" sign attached to them. Ingore it at your own dismay.